Ultimate Team (commonly referred to as MUT) is an online game mode in the Madden Series that started in Madden NFL 10. The goal of Ultimate Team is to level up your team with different tiered trading cards as much as possible until you are satisfied with it.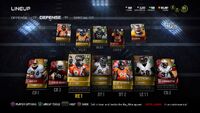 Marketing
Edit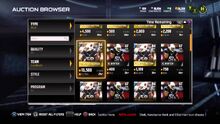 Players are able to put their cards on the Auction House for virtual MUT coins. (you can use coins to buy cards and packs) They can also put their cards on the trading block to get other cards.
Cards are items in MUT that you can put in sets or to use for your team. Cards contain players, contracts, and collectibles. You can obtain these virtual trading cards by opening packs or getting them from the Market. They have specific tiers and overalls. The tiers are Bronze, Silver, Gold, and Elite. Overalls range from 0-99.
Some cards are eligible for sets, or collections. You have to put a certain amount of cards in a set to get the a set reward, which can be a player or a collectible.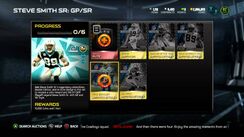 Ad blocker interference detected!
Wikia is a free-to-use site that makes money from advertising. We have a modified experience for viewers using ad blockers

Wikia is not accessible if you've made further modifications. Remove the custom ad blocker rule(s) and the page will load as expected.