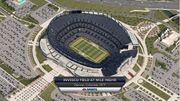 Sports Authority Field at Mile High, previously known as Invesco Field at Mile High, and commonly known as Mile High, is a multi-purpose stadium, in Denver, Colorado. It replaced the identically sized, but commercially obsolete Mile High Stadium (named for the fact that Denver is exactly one mile above sea level) in 2001. It is best known as the home of the Denver Broncos of the National Football League. Invesco paid $120 million for the original naming rights, before Sports Authority claimed the naming rights on August 16, 2011.
Appearances
Edit
Ad blocker interference detected!
Wikia is a free-to-use site that makes money from advertising. We have a modified experience for viewers using ad blockers

Wikia is not accessible if you've made further modifications. Remove the custom ad blocker rule(s) and the page will load as expected.