The 2009-10 Miami Dolphins season was the organization's 40th season in the NFL and 44th overall. The Dolphins entered the 2009 season as the new AFC East champions after posting an 11–5 record in 2008. Dropping by four more games, from 2009-15, the Dolphins failed to make the playoffs, marking the 25th consecutive year that the region hosting the Super Bowl would not see its host team play(not counting, of course, the years where Super Bowls have been played on neutral sites).
The previous division champs did not capitalize in 2009 much. They were 3rd in the division and missed the playoffs. Although they went 4-2 division-wise, the New England Patriots(1st in East) and NY Jets(wild card) qualified for the postseason.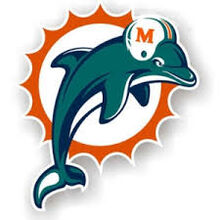 Ad blocker interference detected!
Wikia is a free-to-use site that makes money from advertising. We have a modified experience for viewers using ad blockers

Wikia is not accessible if you've made further modifications. Remove the custom ad blocker rule(s) and the page will load as expected.