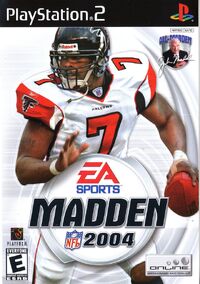 Madden NFL 2004 is the 14th installment of the Madden NFL series of American football video games. Michael Vick, the former Atlanta Falcons quarterback, is on the cover. New features in Madden 2004 include a new owner mode option that allows the player to control a franchise. In this mode, the player takes on all the responsibilities related to owning a professional football team, from regulating hot dog prices, to team relocation, to hiring and firing coaching staff. Another new feature is the ability to edit a historic team. Also, a new training camp mode, occurring before the preseason, that can help player progress faster by putting him through mini-camp drills. At the 2003 Spike TV Video Game Awards, Madden NFL 2004 was named "Game of the Year."
Ad blocker interference detected!
Wikia is a free-to-use site that makes money from advertising. We have a modified experience for viewers using ad blockers

Wikia is not accessible if you've made further modifications. Remove the custom ad blocker rule(s) and the page will load as expected.