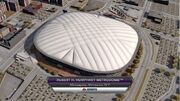 The Hubert H. Humphrey Metrodome, commonly called the Metrodome, is a domed sports stadium in downtown Minneapolis, Minnesota, United States. Opened in 1982, it replaced Metropolitan Stadium, which was on the current site of the Mall of America in Bloomington and Memorial Stadium on the University of Minnesota campus. The Metrodome is home to the National Football League's Minnesota Vikings, and the Big Ten's University of Minnesota Golden Gophers baseball team. The stadium was also the home of the Minnesota Twins from 1982 to 2009 and the Golden Gophers football team from 1982 to 2008. The football playing field has been known as Mall of America Field at the Hubert H. Humphrey Metrodome since October 2009.
Appearances
Edit
Ad blocker interference detected!
Wikia is a free-to-use site that makes money from advertising. We have a modified experience for viewers using ad blockers

Wikia is not accessible if you've made further modifications. Remove the custom ad blocker rule(s) and the page will load as expected.