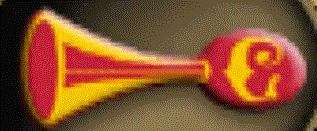 The Big Tent Island Clowns were an unlockable fantasy team that hail from Big Tent Island, Yappy State. They had an overall of 99 on offense, defense, and special teams. They also had no special ability but they resembled actual clowns inside a circus-like stadium. They only appeared in Madden NFL 2000 and Madden NFL 2001 on the PS1 and N64.
Circus Stadium
Edit
The Clowns play at Circus Stadium. The field surface is a sandy type and the stadium has a capacity of roughly 25,000 or so. Both ends of the stadium feature a open-like area which shows a blurry texture that probably resembles a play or act.
Clowns Bio (Madden NFL 2000 - Madden NFL 2001):
Edit
On a remote island in the Yappy State is where the Clowns hail from. Even though they do not know the ins and outs of American Football, they sure can try.
Uniforms
Edit
Home: Green Helmet, Green Jersey, Blue overalls for pants.
Away: Orange Helmet, Orange Jersey, Blue overalls for pants.
The fans of the stadium are a mixture of clowns and humans.
In Madden NFL 2002, the option to create a custom team was allowed. The logo of the clowns was re-used (including the Praetorians, Mummies, Marshalls, Monsters, Sugar Buzz, etc.) and the name "Clowns" will be heard if that is the team's name.
The end zones are blue on both ends with yellow and red triangles on both ends with Clowns in red and yellow writing on both ends as well.